We help active adults move better, feel better and improve performance, so they can live an active lifestyle pain-free!
Wondering If
Omni Wellness & Performance

Is Right For You?
If you're not quite ready to book an appointment yet, you might have some questions that you would like answered first. We would be happy to chat with you so we can be 100% sure that we can help you. Just click the button below to request to speak to us on the phone!!
We understand that some people want to find out a little more about the availability and pricing of physical therapy before booking an appointment. If you want to know about our availability, then just click the button below and complete the simple form.
We realize some people may be unsure if physical therapy is right for them. Are you wondering if it'll work or if we can help with your problem? If that sounds like you and you'd like to come see for yourself how we can help you, just fill out the simple form below.
With our services you'll feel like new again.
Train like an athlete, recover like a Pro!
We have a passion to help others, always been driven to inspire, give back, and improve the lives of those around us. Our relentless pursuit of improvement, has led us to offer you some amazing services that will make a difference in your life.
Find The Real Cause of Your Pain
We'll perform a full body movement assessment, so we can get a closer look at how you move.
We then create a custom program that addresses your pains, restrictions, and restores balance to your body.
We won't let you fail, you'll have our full support to keep you accountable to start enjoying happier pain-free life!
What Other People Just Like You Are Saying About Omni Wellness & Performance in Fairfax
"Omni Wellness has been an essential component of my son's development as a soccer player. His overall strength, agility and stamina has been significantly enhanced as a result of Jose's training. Jose offers extensive knowledge, ongoing support, and tailored workouts. Terrific training for any athlete."
"My athlete daughter has been working with Jose since June, you can see difference in her strength, the progress is incredible! She loves the training environment, and Jose's ability to change it up and keep challenging her. "
"Omni Wellness and Performance offered high quality training and was very flexible to my daughter's hectic schedule. We enjoy working with Jose and will continue to go back to Omni throughout her athletic career."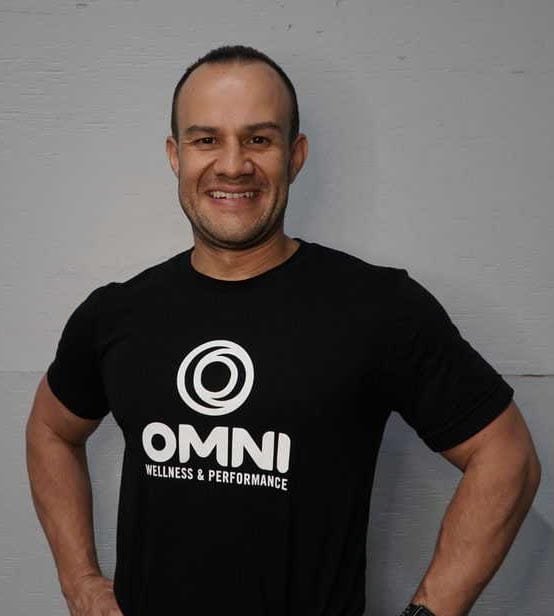 Jose studied Exercise Physiology at George Mason University. He has dual licenses as a healthcare professional, as a licensed Physical Therapist Assistant, and as a Licensed Massage Therapist.
He went on to get his certifications in the health, fitness, and sports performance industry. Jose is certified as a Speed & Agility Specialist and Youth Fitness Specialist.
A Certified Fascial Stretch Specialist through the Stretch to Win Institute and Movement Re-education Specialist through Z Health.
Jose has more than 15 years of experience helping his clients move better, get stronger, become resilient, and stay motivated. From his roots as a trained culinary professional to his passion for coaching, Jose is on a mission to empower every-day people to learn how to find joy in physical well-being and nutrition. Jose provides one-on-one and group training, coaching, stretch therapy, and meal planning.
Want To Get Relief Faster?
Choose which option works best for you…
What do clients say about Omni's Sports Massage Therapy?
Andi played soccer at Stanford,  currently plays professionally for the Washington Spirit, she also plays for the USWNT.
Lana played college soccer at East Carolina and is currently playing professional soccer in Zaragoza, Spain.