Omni Wellness & Performance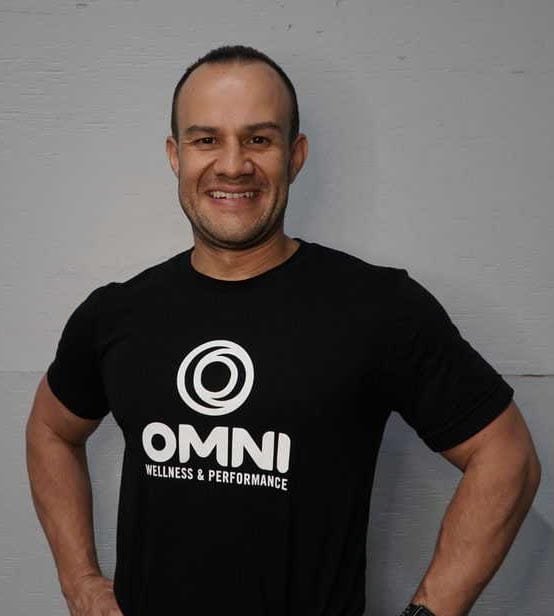 Owner and Founder of Omni Wellness & Performance
Jose studied Exercise Physiology at George Mason University. He has dual licenses as a healthcare professional, as a licensed Physical Therapist Assistant, and as a Licensed Massage Therapist.
He went on to get his certifications in the health, fitness, and sports performance industry. Jose is certified as a Speed & Agility Specialist and Youth Fitness Specialist.
A Certified Fascial Stretch Specialist through the Stretch to Win Institute and Movement Re-education Specialist through Z Health.
Jose has more than 15 years of experience helping his clients move better, get stronger, become resilient, and stay motivated. From his roots as a trained culinary professional to his passion for coaching, Jose is on a mission to empower every-day people to learn how to find joy in physical well-being and nutrition. Jose provides one-on-one and group training, coaching, stretch therapy, and meal planning.
He has worked with numerous elite soccer clubs in the D.C., Maryland, and Virginia area. Since 2010, he has been the strength and conditioning coach at Braddock Road Youth Club (BRYC) in Virginia where he helps elite soccer players prepare to play at top universities. His players have gone on to Stanford, Princeton, UVA, Penn State, Wake Forest, NC State, William & Mary, and many others.  Jose also works with pro athletes from the 2021 NWLS Champions Washington Spirit, teams in the MLS, MLB, NFL, and US Women's National Soccer Team.
Jose takes his performance training and injury prevention to the next level he goes beyond the basic evaluation and applies functional neurology to restore range of motion, relieve pain, and improve performance. Working with the three major components the human brain relays on for information eyes, inner ear, and proprioception (ability to communicate with our joints in space)––Jose increases clients' ability to move and function in everyday activities, not just on the field or court.
OMNI Wellness and Performance offers a full range of services helping clients improve movement, reduce pain, maximize performance, and restore balance to the body.
Find your speed and agility coaches near me, we are located in Fairfax, VA.
Whether you are an athlete looking to play at the next level, an active adult looking to improve flexibility, mobility or want to get back to moving well without pain, we are here to help you Perform Your Best!
Dr. Courtney Dagan, PT, DPT
Doctor Of Physical Therapy
Courtney Dagan, PT, DPT attended Stockton University in New Jersey for both her undergraduate degree and physical therapy degree. She participated in various sports growing up and continues to enjoy leading an active lifestyle. Over her years as a physical therapist, Courtney developed an interest in manual therapy skills such as dry needling, myofascial release, and visceral manipulation. In 2019, Courtney started a certification program in Ireland for a manual therapy technique called Amatsu which uses the science of biotensegrity. This treatment focuses on treating the body as a whole, not just individual parts. She found this technique through dealing with her own back issues and was amazed at what a difference Amatsu treatments made to her pain. A self-described "outside the box" therapist, Courtney has been able to help people that "traditional" physical therapy was not as effective for through her various manual skills.
Sara Reynolds, LMT, ATC
Sara studied kinesiology (with a concentration in athletic training) at Longwood University. She then
studied massage therapy at Northern Virginia School of Therapeutic Massage. She is a Certified Athletic
Trainer as well as a Licensed Massage Therapist.
Sara has been practicing massage therapy for over 13 years, specializing in deep tissue and therapeutic
work. Her passion is working with athletes to help prevent and treat injuries with manual therapy and
guidance for self-care at home. Her manual therapies include deep tissue, sports massage, myofascial
release, prenatal massage, rotator cuff release, trigger point release, and medical massage.
Want To Get Relief Faster?
Choose which option works best for you…