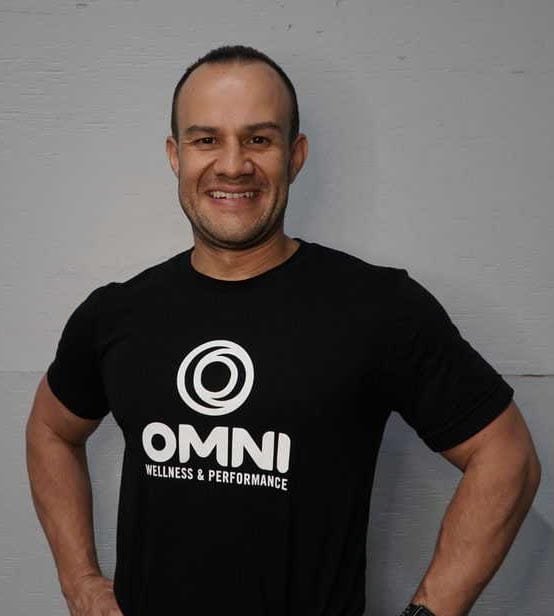 Owner and Founder of Omni Wellness & Performance
A Message From Jose Chacon, LPTA, LMT, Owner and Founder of Omni Wellness & Performance
Everyone we encounter who suffers from neck and shoulder pain desires to know:
"Why am I experiencing this?" Or, "Why Am I Still Suffering From Neck And Shoulder Pain After Tolerating It for Six or More Months?"
The vast majority of individuals have the misconception that if they just wait it out, the discomfort they feel in their neck or shoulders will go away on its own. That when they awoke one morning, "magic" would have made it appear as if nothing had ever happened… However, after a period of six months, the nagging pain you had been suffering is still there, and it has gotten even worse.
Do You Recognize Yourself in That?
Another common occurrence in our Omni Wellness & Performance clinic is when patients go to the doctor and are told to "try some drugs to see how it goes." Six weeks later, they go back to the same doctor because nothing has changed, and this time they are given a prescription for even stronger medication.
Did Something Like That Ever Happen to You?
Perhaps you are confused because different people have provided you with contradictory information. You may assume you have a problem with your neck when, in reality, the problem is with your shoulder. Finding the source of the problem in the body can be very challenging, which causes many individuals to delay deciding how to treat their neck and shoulder pain. Even worse, many people simply accept it as "part of life," as though it were unavoidable or essential.
If you have neck or shoulder pain, here are 7 more reasons why it might be sticking around longer than it should:
1. You assumed it would disappear on its own, but it hasn't.
2. Your doctor told you to relax and take painkillers, but neither helped, and the pain in your neck and shoulders returned as soon as the pills wore off.
3. The advice of well-meaning friends and relatives led you to believe that aging inevitably brings on neck and shoulder pain for everyone.
4. You have tried to get help from a physical therapist or other medical professionals before, but their suggestions or treatment didn't help.
5. You've tried TENS units and heating pads without success.
6. After experiencing severe pain in your neck or shoulders, you decided to take it easy. However, the issue persists and causes you daily discomfort.
7. You decided to get a couple "massages" in an effort to alleviate the discomfort, but while they made you feel nice and relaxed, they did little to actually fix the problem.
If you or someone you know has experienced any of these issues, we encourage you to contact us so that we can help. One of our physical therapists would be pleased to speak with you about your situation and the options available to you. Now that we know what doesn't work thanks to your testing of some or all of them, we can focus on finding what works. Please use the following link to contact us and arrange a call:
The following question we are commonly asked is:
"How Can You Eliminate Neck and Shoulder Pain?" …
Here are four possible solutions:
First, you have to make up your mind if you actually need help. Many people put off getting help for their neck and shoulder pain for as long as six months because they think it will "just go away with time." However, after that amount of time has passed, the pain hasn't gone away and, in many cases, has become worse.
Doing the correct exercises is the next step. Performing the appropriate series of progressive exercises is one of the best strategies to alleviate pain in the neck and/or shoulders. The right workouts will help you feel better faster, regain your mobility more completely, and prevent future problems.
Avoid sitting or sleeping in awkward positions. How often do you wake up with a stiff neck? Maybe you spent all day sitting and now your shoulders hurt. Due to the fact that sitting awkwardly and sleeping in an unnatural position are two of the worst things you can do to aggravate neck and/or shoulder pain. In addition to receiving hands-on treatment, it would be beneficial if you were also taught the appropriate strengthening exercises for better posture.
It's time for some "hands-on" physical therapy. Shoulder and neck discomfort are two common complaints that can be helped by physical therapy. One of the most common issues treated at Omni Wellness & Performance. If your neck and/or shoulder pain is keeping you from doing your job, if tightness or tension in your shoulders is keeping you awake at night, if it is preventing you from staying active, or if it is threatening your independence, physiotherapy can help you get back to living the life you deserve as soon as possible. If you are interested in finding out how the physical therapy team at Omni Wellness & Performance in Fairfax, VA may be able to help you live with reduced neck or shoulder pain, we encourage you to schedule a free, no-risk session at our location:
Note: For those who are highly worried or suspicious about physical therapy and aren't sure if it will help them or not, we offer a free Total Body Diagnostic session to find out what you need and how we can help. If that's the case, we invite you to schedule a no-cost initial consultation for a full body analysis so that we can figure out what's wrong and what can be done without jeopardizing your financial stability.
"How Can Visiting Omni Wellness & Performance Help You Get Rid Of Neck And/Or Shoulder Pain?"
In general, the physical therapists at Omni Wellness & Performance will be able to aid you in returning to a life that is free of the constant, everyday, and vexing discomfort that you have in your shoulders and neck.
To find out how much it will cost and what openings we have at our clinic in 5589 Guinea Road, Fairfax, VA 22032 simply click the button that is provided below and fill out the brief form that follows:
What Other People Just Like You Are Saying About Omni Wellness & Performance in Fairfax
"Omni Wellness has been an essential component of my son's development as a soccer player. His overall strength, agility and stamina has been significantly enhanced as a result of Jose's training. Jose offers extensive knowledge, ongoing support, and tailored workouts. Terrific training for any athlete."
"My athlete daughter has been working with Jose since June, you can see difference in her strength, the progress is incredible! She loves the training environment, and Jose's ability to change it up and keep challenging her. "
"Omni Wellness and Performance offered high quality training and was very flexible to my daughter's hectic schedule. We enjoy working with Jose and will continue to go back to Omni throughout her athletic career."