Why Omni Wellness & Performance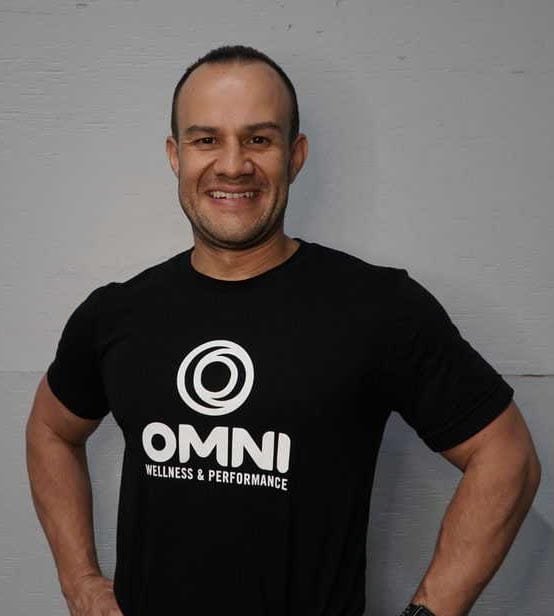 Owner and Founder of Omni Wellness & Performance
Welcome to Omni Wellness and Performance
OMNI Wellness and Performance believes in a holistic approach to movement and performance. We love working with active adults who want to improve their flexibility, become stronger, and move with ease.
Our mission is to connect, collaborate, and empower our clients so that they can become in tune with their body and mind. Learn to identify early warning signs when things aren't feeling right, and give them solutions to become more independent with their health and wellness.
We help by removing joint stiffness, fear of pain, and creating a sustainable customized program to fit your needs…
so that you can get back to enjoying that active lifestyle, without depending on painkillers, costly injections, or unnecessary life-altering surgeries.
If you've ever had pain that's affected your quality of life, how you move or suffered a sports-related injury…often your response may be "with some rest, it will go away."
No, rarely if ever does that really work.
Ignoring the cause and not getting to the "root cause" many times can actually cause more harm than good.
This can lead to more joint stiffness, increased pain, and cause you to be less effective at work, reduce the ability to play with your kids, or enjoy how you want to live your life.
Does this resonate with you??
The Majority of our clients have: often:
Wasted money on costly co-pays just to be told by their physicians to "rest" & "try some pain pills", only to go back weeks later for MORE of the same prescription with a stronger dosage.
Attempted going to a local strip mall physical therapy or chiropractor clinic, only to be treated like another number is a huge assembly line factory, without getting a personalized plan of action, only to get even more Frustrated and cause Disbelief that there is hope for them.
Even tried searching the "YouTube Exercise Library", but found those exercises done by fitness models were just adding more pain and fuel to their fire leaving them even more miserable
Doctor Google recommended even more "REST", although this seemed like a good idea at the time because the pain level had gotten so high, it only led to more stiffness and tightness
Our ideal clients are active adults who value their health and wellness, quality of life, and want to perform their best. No matter where they need to perform. Adults who are tired of "rest & ice" and looking to be proactive with their recovery so they don't have to depend on pain pills or unnecessary surgeries.
Busy people that are always on the move who don't have time to waste with nagging pain, joint stiffness, or sports injuries.
Adults that DO NOT want to take pain pills or dangerous opioids, but want to heal their bodies in a natural alternative way.
Our clients range from busy executives to soccer moms always running around to active grandparents and even youth athletes looking to excel at the next level!
We'd love to help you get out of pain, move better and learn how to get stronger by inviting you to book a FREE Strategy Call with our Licensed Massage Therapist and Certified Performance Coach to find out what we can do help you.
Truth be told many of our clients are frustrated with the healthcare system today.
They've already tried and failed at various "other" insurance covered healthcare practices.
Since you too have most likely already tried those "other" things before, the good news is that you're one step closer to finding a solution that will work for you!
When is the last time your physician spent more than 7 minutes with you listening to your problems and pain points?
Only to be given prescriptions for painkillers only to mask the source, for a while.
Or recommended to "just rest it" and "take it easy".
We know just how frustrating this can be…
That's why we ALWAYS spend AT LEAST 15 – 20 minutes on our FREE Strategy Calls listening to your specific needs and desires.
Omni Wellness and Performance has built its reputation by having these honest conversations, getting to know our clients on a deeper more meaningful level, so we can create a sustainable plan that meets your needs and goals.
We never want to make you feel like you're signing up for something that will NOT help you achieve your goals, we always want you to feel comfortable making a decision should you choose to work with us.
Your fastest track to recovery is to jump on a FREE phone call with us, we are excited to hear from you soon!
What Other People Just Like You Are Saying About Omni Wellness & Performance in Fairfax
"Omni Wellness has been an essential component of my son's development as a soccer player. His overall strength, agility and stamina has been significantly enhanced as a result of Jose's training. Jose offers extensive knowledge, ongoing support, and tailored workouts. Terrific training for any athlete."
"My athlete daughter has been working with Jose since June, you can see difference in her strength, the progress is incredible! She loves the training environment, and Jose's ability to change it up and keep challenging her. "
"Omni Wellness and Performance offered high quality training and was very flexible to my daughter's hectic schedule. We enjoy working with Jose and will continue to go back to Omni throughout her athletic career."