Sports Performance Training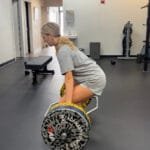 Supercharge their speed, agility, and strength with our long term elite athletic development program, designed specifically for youths ages 10-18. (grouped by age)
Spaces are limited and we are only accepting dedicated athletes and motivated parents who are 100% committed to the process of becoming an elite athlete.
If you want to unlock your true athletic potential, this is for you!
Athletes that are explosive and fast have a huge competitive advantage over those who simply focus on sports skills.
You've seen how much importance has been placed on combines, showcases and other ways of measuring an athlete's athleticism, and with good reason.
9 times out of 10, the stronger, faster athletes win on the field or court. And even when it comes to getting the scholarship or the contract those athletes come out on top.
How would you like to get this competitive edge and gain the confidence knowing that you're going to be able to go through or zip by a defender, or know that you're more powerful than the competition?
That is exactly what we are going to help you unlock in our Sports Performance Training and Elite Athletic Development Program.
It is our job to produce great athletes.
While we don't work on the sport specific skills that are required to be a great player—that's the coach's job and they're experts at it—we create better well rounded resilient athletes that have explosive power, speed, agility, and quickness to make those sport skills much, much more valuable.
Quick Explosive Speed off the ball is key to creating separation from an opponent, that's what we focus and specialize on!
In Our Elite Athletic Development Program, athletes will:
Every athlete can benefit from our Sports PerformanceTraining "Elite Athletic Development Program!"
While training at high levels all athletes need to also focus on injury prevention, our sports massage therapy can help speed up recovery!
Our Fairfax massage therapist, all specialize in deep tissue sports massage as well as fascial stretch therapy to maximize flexibility while reducing overuse injuries.
You can find a sports massage therapist near me, by clicking here.
So the question is this will the one to gain the edge be you or your competition?
Below are the details of our Sports Performance Training and Elite Athletic Development programs.
To find performance training near me, click here to get started.
We have been a leader in training youth athletes for over 15 years, to help youth sports performance training near me check out our training facility location below.
You don't have to sacrifice the game you love over problems that can be fixed.
Sincerely,
Jose Chacon, LPTA, LMT
Owner and Founder of Omni Wellness & Performance
What Other People Just Like You Are Saying About Omni Wellness & Performance In Fairfax
"Jose with Stretchmoves has been working with three of our family members over the past two years, my two daughters starting at age 12 and 16 and myself. He has helped us work through so many issues with muscle, joint and other body pain due to sports and general life activities. During the sessions, he clearly explains what he's found and why he is suggesting certain movements and performing specific stretches. We have felt immediate improvement and significant reduction in pain from just the initial session. My daughters and I have remarked that walking out of a session we feel an inch taller and are pain-free. Jose also leaves us with a plan and exercises to work on outside of his sessions for continued improvement. He has a true skill for finding out how to help each one of us and making us feel so much better! "
I began working with Jose at Stretch Moves due to back pain, poor posture and limited flexibility. During our sessions Jose works not only on stretching, but also explains with clear knowledge the anatomy and physiology of how the body works, as well as ways to move in a functional and pain free manner (bending, reaching, getting in and out of bed, up and down from sitting, lifting, etc). Each session allows for time to assess current goals, ask questions, stretch and if needed utilize state of the art equipment to assist in movement, pain management and flexibility. Jose also gives suggestions and exercises to work on carry over at home. I highly recommend working with Jose. My pain management, posture, functional movement and flexibility have all improved since I began and I consider Stretch Moves sessions an integral part of my health and wellness program.